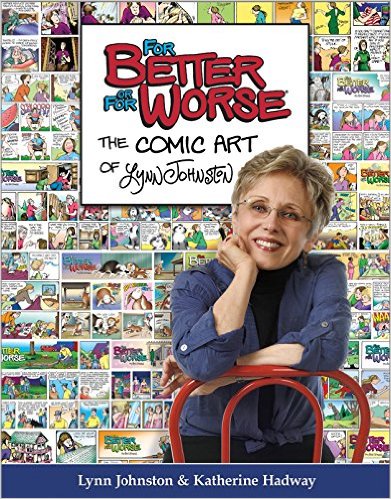 I was absolutely thrilled to have world famous Lynn Johnston visit my portrait studio a while back. She was looking to have a new portrait taken for the cover of her soon to be released book. I couldn't say anything until it hit the shelves of your local book store and it almost made me burst waiting but, finally it has come out and I am finally able to tell everyone.
"The comic art of Lynn Johnston" gathers together a generous selection of Lynn Johnston's daily comic strips and Sunday pages, spanning the lives of the Patterson family.  The book also features some of Johnston's most popular narratives, interspersed with an essay that chronicles the development of her drawing, her life, influences both personal and artistic, and the history of her wildly successful comic strip. The book was written by both Lynn and her daughter Katherine Hadway.
I am so very proud that it features a Polar Studio portrait on it's cover and hope that you will pick up a copy so you can read about Lynn's journey.
Brian